Here we are, the week before Thanksgiving. I can tell you what this week would normally look like for me. I would be knee deep in cleaning, decorating and staging my house for anywhere between 40 -60 people to come and share Thanksgiving dinner with us. I'd be crafting name tags and party favors, arranging potluck items and hauling equipment from my catering office to my house in order to transform my garage into a banquet hall. And I would be doing all that while literally working around the clock the weekend prior because our catering company would be sold out. I would be pulling my hair out, exhausted and out of my mind. And I would have been loving every minute of it.
Makes no sense right? Why on earth did I commit to coordinate a giant holiday meal and add guest after guest in the middle of the busiest time of year for me at work? The short answer…because I absolutely love Thanksgiving!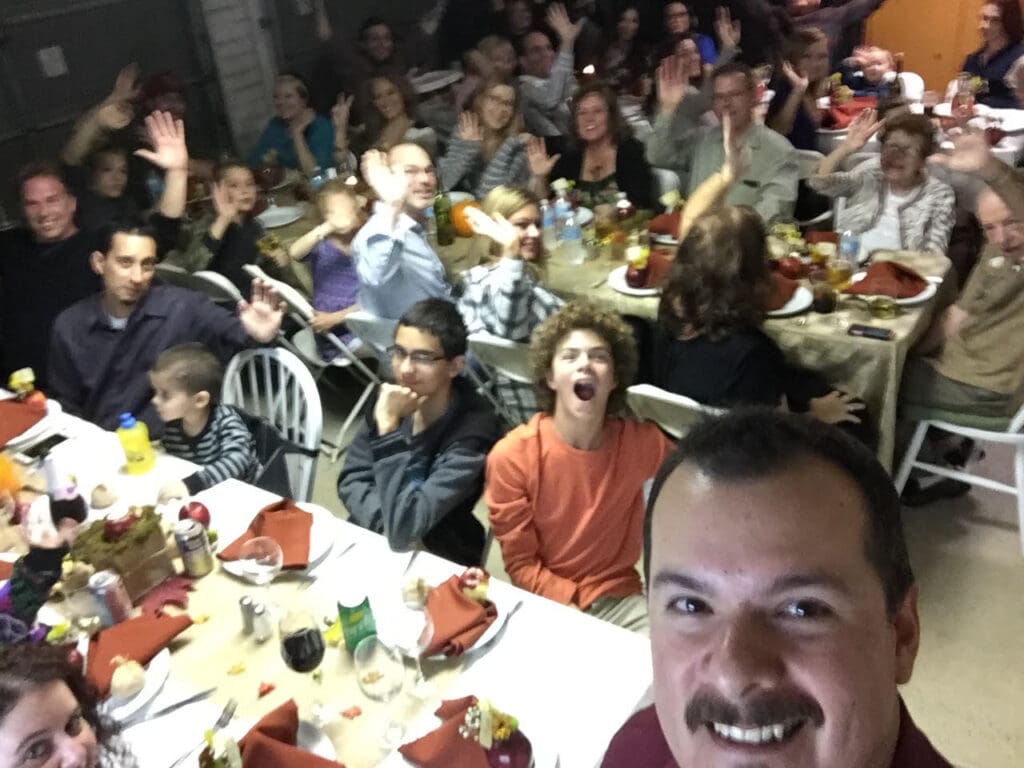 When I was a kid, this was the holiday that my parents hosted. It was always a big affair and I loved helping put the special touches on it. I learned calligraphy and stenciled name cards. I researched napkin folding and helped set our tables. I loved the way the house would smell while the turkey cooked and the hustle and bustle as we got ready. And then the house would start to fill with relatives I only got to see a few times a year, in addition to all of the aunts and uncles and cousins I spent every occasion with. It was madness and perfection all rolled up into one meal.
A few years after my husband and I got married, we took over the holiday. And it grew even bigger. His three siblings and their families mixed with my already large crew filled up our house pretty fast. Add to that, our own kids and their families as well as my cousins' growing clans, we quickly became a giant bunch. For me, this holiday became a labor of love. From picking out a special something to express my gratitude for the people I was celebrating with, to all of the decorations and table settings, I poured a piece of myself into every year's celebration.
So here we are, Thanksgiving 2020. I literally refused to discuss it until November 1st. At that point, I knew I had to face the reality that there would be no party. There would be no relatives running at each other with outstretched arms, reunited for their yearly catch-up session. There would be no gaggle of kids tearing up my grass and annoying my neighbors with toys tossed over the fence. No giant buffet table. No floral centerpieces. No late night binging with my husband after everyone left and we realized we had barley had time to touch our plates. Thanksgiving, like so many things this year, would have to look different.
But you know what? I'm over it. I mean, not technically, but I've come to terms with it. Ironically, I'm not a caterer anymore working insane hours. I'm a Director of a nonprofit and right now, I work pretty decent timeframes. Today, I didn't spend 12 hours in a kitchen trying to get 1000 people fed. Instead, I researched playground equipment and flooring that could handle a critical fall. I met with the head of the facilities disinfectant department for the cleaning product we will use when we open. I worked up budgets and sent emails begging for donations and endorsements. I ordered marketing materials for our next fundraiser and made phone calls. And I sat at my desk imagining a facility open and full of kids who had their big holidays and parties cancelled every year.
I thought about my niece today and all of the things that were cancelled for her when she was fighting leukemia. The birthday parties she couldn't attend or the holidays she had to miss because her blood counts were too low. I thought about how that must have felt to be only four or five years old and have all of the special things in your life taken from you. So today I decided to be grateful that I lost my Thanksgiving. Grateful that I've been given an opportunity to feel what it feels like to get the big stuff taken away. Grateful that I still had ways to make the holiday special and people who loved me enough to help me do it. Don't get me wrong…I want my big party back next year. I want to wrap my arms tight around all of those family members and friends I can't see on Thursday. I want chaos and laughter and a house full of people. But just this year, on this Thanksgiving, I'm going to sit in the reality of my own quarantine and commit the feeling to memory. And then I'm going to use that memory to fuel my passion to give these kids something that they don't have to worry about getting cancelled. I'm going to build them the best playground their little eyes have ever seen and fill it with loving volunteers whose only job is to make them smile.
I know you're probably just like me. Missing the things you took for granted. Lonely for the people you can't see. Sad for the places you can't go. But, this Thursday, find some joy in whatever you get to do, whoever you get to be with and however you get to do it.. And join me in finding gratitude for this moment of clarity. Use it to fuel your heart and your mind. Use it to help me build Lily's Pad.
Be blessed, my friends. Happy Thanksgiving to you and yours.
-Written by Dawn Garza
Director of Operations at Lily's Pad and Thanksgiving's Biggest Fan