"I believe most people are good". One of my favorite lyrics in a song full of really great ones by Luke Bryan. I'm one of those people who has an endless array of song lyrics lined up in my head. They play silently through my mind when situations arise. "Even though we ain't got money, I'm so in love with you honey" used to run through my head when stuff would break and the world seemed to be falling apart and my hubby was always there to get us through it. "In every chore that must be done, there is an element of fun"… thank you Mary Poppins, for that one every time I try to convince an eye rolling child that work is all about attitude. And "I believe most people are good" comes up pretty often these days as my inbox fills with donation confirmations and my social media floods with people sharing the story of Lily's Pad.
I do think that I've always had that basic belief in the goodness of people, but it seems to get more solidified as I grow older. In spite of the negativity featured in the news and the nasty political debates taking over every conversation, I still feel an underlying sense of goodness. I was raised by a cop and a military man at that. Considering all the bad situations he had to witness, the criminal behaviors and the cruelties, you would think my Dad would find little to appreciate about humankind. But he's the opposite of that. Generally speaking, he thinks everyone deserves a second chance and countless times I've bore witness to him being the one to give it.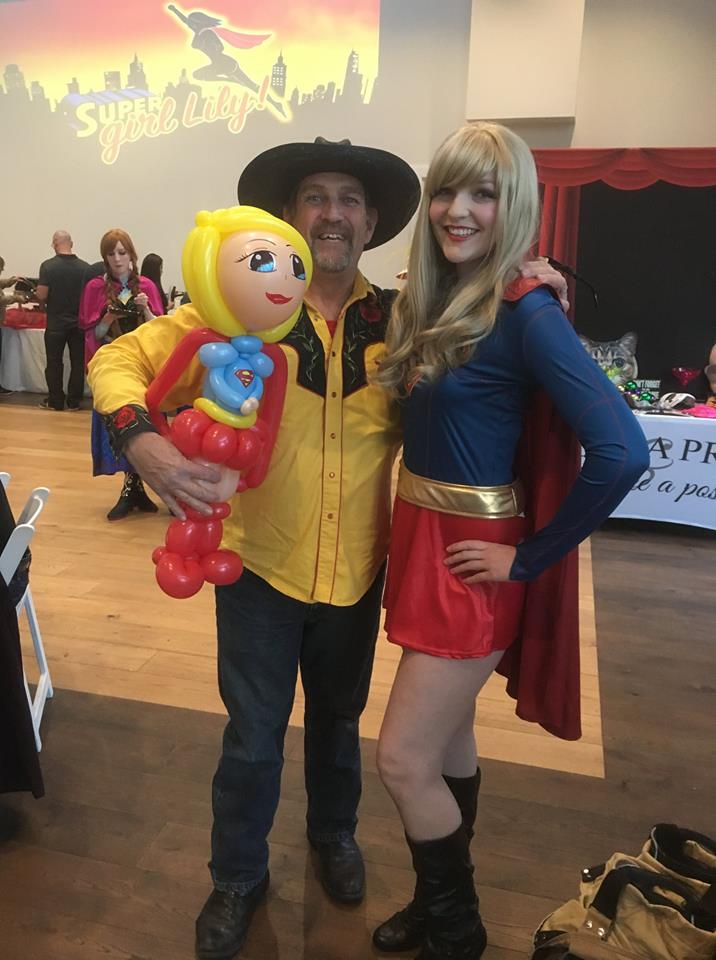 So a general attitude in goodness was at the core of my being, but nothing seemed to bring it more to life than finding my family in turmoil and experiencing the most random kindnesses from people. When my niece was first diagnosed with cancer, a friendly competitor in the catering industry decided to organize a fundraiser. We were so unprepared for what came together. Like a family united, the folks in the entertainment business created the party of the year to raise funds for Lily's medical care. We had a balloon twister, a DJ, Disney princesses and a photo booth. There was overflowing buffets and custom cocktails. Beautiful floral centerpieces, themed props and an auction full of insane prizes made for an amazing party. It was incredible. And every single part of that event was donated by people in the business, some of which we had never even met. Yet there they were, offering their time and services to make our lives better. Most people are good.
Over the two years that Lily underwent treatment, kindnesses occurred on a regular basis. Gifts were given to lift her spirits, sometimes by complete strangers. Bills were paid. Chores got done. A Facebook page dedicated to our Super Lily Sassafras and the outpouring of love and support from its followers, became a lifeline in some dark hours. Most people are good.
As we started to spread the word about Lily's Pad, incredible opportunities began to open up. A man named Sterling and his family offered us a space rent free for 13 years. An architect named John agreed to draw up the plans and get us through the city code reviews. A flooring company offered flooring. A painting company offered paint. Volunteers have popped up everywhere ready and waiting to tear down and build back up the space as soon as it is time. People are amazingly good.
Now we sit faced with a $400,000 renovation goal and we are working to raise $20,000 towards it this October. The $20,000 goal is my attempt to knock a piece off of a rather large boulder. I hope we hit our goal and I really hope someone out there connects us to someone with the resources to make this happen even faster than $20,000 chunks at a time. But no matter when it opens, Lily's Pad will have been built by a community of kind hearted people. By the local Rotary Club who believed in us and gave us our first big donation. By the volunteers who are waiting to give us their time. By the companies that have offered up their products and services. By the October Challengers racking up miles this month and telling their friends about Lily's Pad. I have confidence that we will find a way to open the doors someday and if I'm asked how I can be so sure, my answer will be simple. "I believe most people are good".
By Dawn Garza
Lily's Pad Director of Ops and firm believer in miracles and the goodness of humans