Patience. It's said to be a virtue by many, tried by others and bargained for by most. For those of us building Lily's Pad, it's become a way of life. Once upon a time, my brother dreamt of a playground where immunocompromised children, usually kept isolated, would come together to play. The idea of creating Lily's Pad transformed our family's experience with pediatric cancer. It changed us from being the victims of tragic circumstances into people with a purpose. We felt driven to be a missing piece in the healing of children by building a hyperclean, indoor playground, designed to focus on these kids' mental and emotional health. The decision to take on this mission began in August of 2019 when we officially became a nonprofit and began to search in earnest for space to build this playground.
In March of 2020, we received an incredible gift. A 5800 square foot open canvas just waiting for us to transform it, with a beautiful price tag of "free" for the next 13 years. Our generous benefactor, the Phillips Family, agreed to sponsor this little gem in Tempe, AZ where we could fulfill our dream and create a playground that would be kept so clean, it would allow children who were immune compromised to come and play.
I think we thought that we had just jumped our biggest hurdle. We had found our space, we would have no rent for a long time, and now we just had to sell our concept. And sell it we did! To an incredible architecture firm, Architekton, and to a talented engineering team from Applied Engineering. They took whatever little picture we had in our heads and brought it to glowing life with official drawings.They did all of this for free, as dedicated to this mission as our original founding team.
As grateful as we were for this donation of talent, we were equally, if not more, elated to receive the donation of their expertise. They painstakingly walked us through the realities of creating an HVAC system that would filter the air properly for the immunocompromised. They taught us about the permitting process with the City and gave us lessons on how to read the abbreviations on the blueprints. They held our hand when our permit application came back with requests for redesigns. Without exception, they were kind and patient.
So for them, I would say patience was one of their greatest virtues, whereas our patience was tried daily. Every time we have surged forward, we have felt the painful push back of the need to wait. Whether it has been waiting for donations and grant money to come in or for approval to build and now through the uncertainty of transfer of ownership of our building, we have been given nothing but a giant plate of "hurry up and wait".
If I sit here and consider that our number one goal has been to open our doors, I'm not feeling too victorious. And this is really why I and all of our team feel so impatient. But measuring our success against this single goal doesn't necessarily do our efforts justice. Lily's Pad has only officially existed for a little over 2 years. In that timeframe, we have managed to form a nonprofit, acquire a space, become recognized by the IRS, raise over $400,000 towards our build-out goal and obtain a full set of plans that have not only been submitted but approved by the City for building. Partnerships have been formed within the local building community to lower our overall renovation costs.
We have secured funding from the Fiesta Bowl that will pay for our specialized flooring and playground area. Phoenix Realtors have sponsored our Parent Lounge. Organizations such as the Tempe Diablos, the Tempe South Rotary, the VIP Foundation, SRPMIC, and the Gannett Foundation have supported this build-out financially. Discover Card not only donated cash resources but did a check presentation to our inspiration, Lily, that was featured on the local morning show and picked up by Good Morning America's online platform. We have been interviewed on numerous news channels and podcasts, donated over 100 Play Packs as an outreach program to local hospitals and clinics, organized toy drives and been recognized for our mission at several special events including the nationally televised Fiesta Bowl game.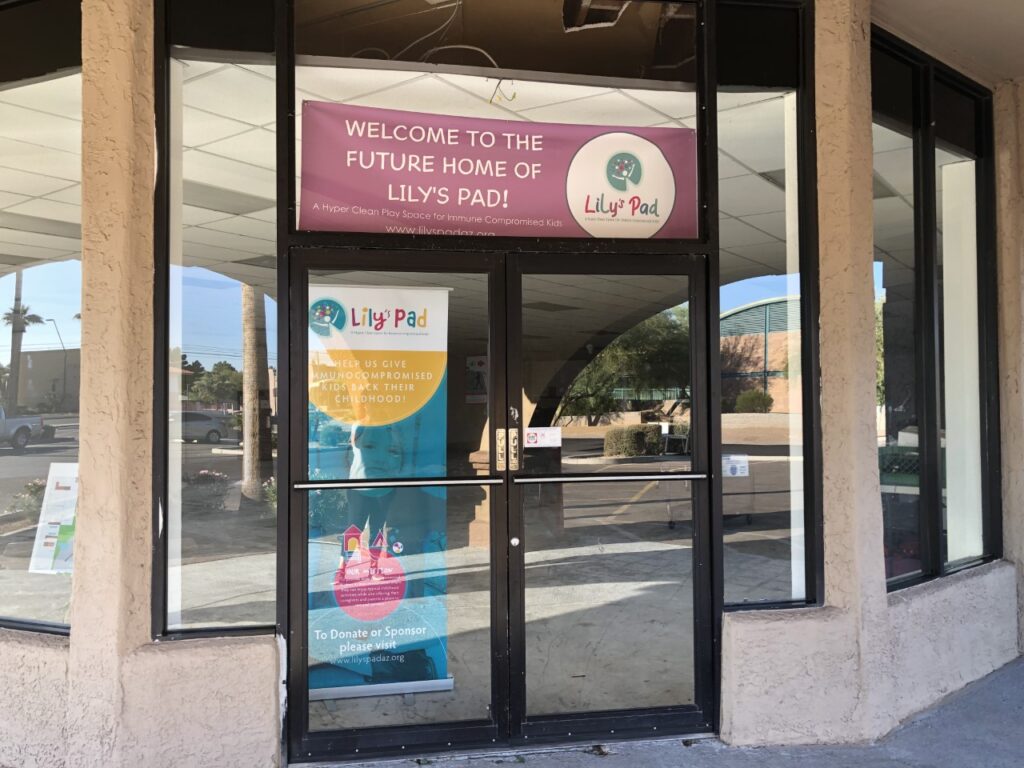 Are our doors open yet? No, unfortunately, they are not. We sit amongst a world of uncertainty as we, like everyone else, navigate through the challenges presented by the pandemic. We face the rising cost of materials and the shortened supply of them. There are many questions that we are relunctantly waiting for answers to. I'd like to say we are waiting patiently, but I'm not sure that would be true.
All I can say is that no amount of waiting or delays will shake our belief that we have been put here, in this place and time, to build this facility. Children should not have to miss out on the joys of friendships and community because of their immunities and families should not be denied the opportunity to watch their children thrive in those relationships.
I kick off 2022 with this new blog because deep in my heart, I believe this is the year that we will finally get to mark off that goal of opening our doors. And when we do, Lily's Pad will not just be a playground but a safe haven of joy, of laughter and of love. I continue to believe that it will be something that will have been worth waiting for.
Thank you to all who have held our hands, celebrated our victories, hugged us through the rough spots and who continue to believe in our vision. And we thank you for your patience. Just give us a little more time…I promise we will make you proud.
– Written by Dawn Garza
Director of Operations and Floundering Student at the School of Patience