For a good five or more years, my husband and I hosted a New Years Eve party at our house. We had two teenage girls and a five year old son at home…there weren't a lot of options for us. The girls were too old to be babysat and in no mood to be babysitters on New Years. The simplest solution was to stay home and be the party house. The girls and their friends in the garage or the backyard. The adults and little kids inside. By then, all of my friends were having kids and our annual party was an easy solution for everyone. A kid-friendly hangout with plenty of free food and drinks.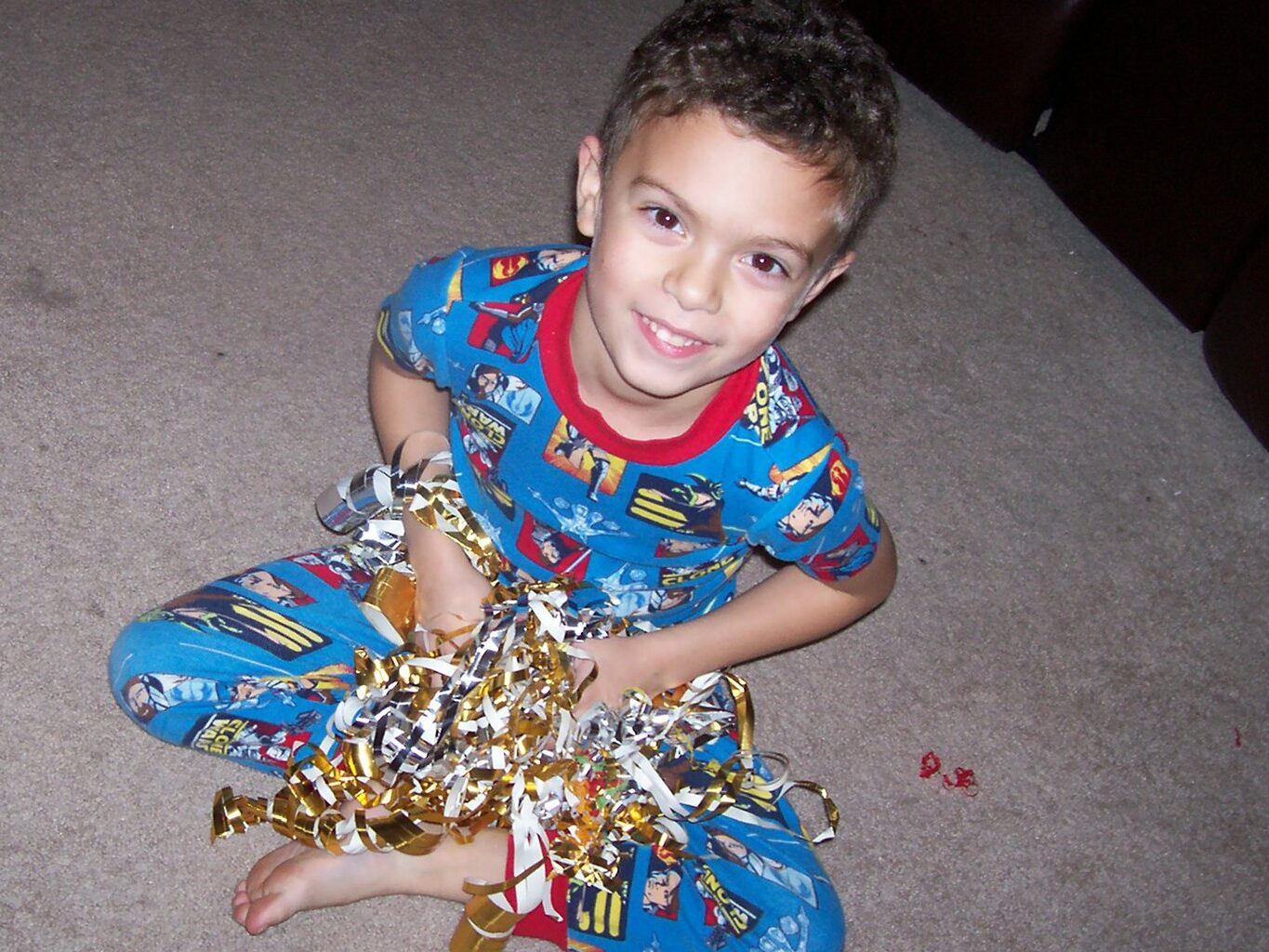 Most of the parents joining us hauled pack and plays for the infants and a change of pajamas for the others. They knew that sooner or later, the late night would have their kids nodding off and it was easier to scoop them up and take them home all ready for bed. But for us, even though we managed a PJ change sometime throughout the night, we knew our son would not sleep a wink during the party. It didn't matter how late it got, my son would just keep going. Kids would start falling off left and right. Collapsing on sofas, bean bag chairs or vacant beds. But not my son. By the time the ball was dropping, we would either have roused some of the kids to join in the festivities or left them sleeping. Either way, my son was wide awake and raring to go! Party hat on, noisemaker in hand, he was thrilled to clink his sparkling cider glass with us and ring in the New Year. Even after all the kids had been rounded up and carried out into cars. Even after we had closed the front door behind the last remaining guest. My husband and I would turn around to find our bright eyed little boy staring right back at us.
I remember not being able to believe this kid was still standing as I sleepily ushered him up the stairs and began the bedtime routine. He would chatter endlessly about the party, giving me anxiety over the potentially long sleepless night we surely had in store as this over-sugared, energized child bounced off the walls. But no sooner did we tuck him in and turn out the light, that crazy little kid would fall fast asleep. Almost instantly. And sleep without a peep until morning when he would rise from his bed at the usual hour as though he hadn't just missed out on five hours of sleep. Ready to go, bright eyed and full of energy for the new day.
As this year comes to a close, I literally feel as though Lily's Pad is my bursting-with-energy child. For the past few months, this project has been building with such intense energy and excitement. Plans have been drawn, air filtration systems designed, ideas for play ground pieces and colors tossed around. The air is thick with excitement and possibilities. Lily's Pad is running around in circles like my little son, ready and raring to go. But as the year's end is descending, I am quietly ushering her to bed. Urging her to rest and wait for the next phase. There's much to do in this next stage but it all must happen while she sleeps. Grants must be found, funds must be raised, whatever amazing money elf that might lurk out there needs to sneak in and deliver a hefty check. And until those things happen, Lily's Pad must rest and wait for that morning hour when she can rise up and fill the air with her endless energy once more.
I've never worked at a job quite like this one. I've never had to start, stop and start again. My family spent years making something happen with nothing. We did it with a lot of sweat equity and a lot of creativity. But this is different. This has to be done with such precision. Medical professionals have to see that we did the job right in order to endorse us. Parents need to see credentials and expertise to support our claims for safety. Children need to be given the most incredibly, carefully designed environment that we can offer them. It takes time. And money.
2020 was a rough year. I can't deny it. My family lost their catering business to the pandemic, our plans to build Lily's Pad were delayed by lack of funding and community partners that felt the same effects. I miss my cousins, my aunts and uncles, my inlaws. We've been divided into quarantine circles, lost out on social events, had cancelled trips and disappointments. But as I close out this year, all I can feel is blessed. My niece beat cancer. My family members and friends are still alive and healthy. I'm financially ok. I've got the best husband. And I'm working on the greatest project I've ever been a part of. I'm working to build a playspace for kids fighting battles to recapture the innocence of their childhood. It may be quiet over here on the Lily's Pad front for awhile, but don't let it fool you. She was never ready to sleep, I just tucked her in for a little bit to rest up for the next day. She will be back and raring to go as soon as the sun shines in.
If you're the elf I'm waiting for with the hefty check or an electrician or plumber ready to offer services, you know where to find me! If you're one of the many beautiful souls praying for our success or offering kind words, keep on working your magic! Before we know it, time will have flown by and then 2021 too will be coming to a close. We will be looking back at all of our challenges and triumphs of that year as well. And hopefully, if I put Lily's Pad down for a nap at this time next year, it's because she's pretty tired from all of the sweet kids that have been flooding through her doors, filling her space with laughter and joy.
Happy New Year, my friends. Let's make this happen in 2021. Goodnight….
– Written by Dawn Garza,
"Ready to Rise" Director of Operations at Lily's Pad