WE ARE NOW OPEN FOR PLAY!
Our facility is a 5200 square foot space dedicated to bringing the gift of play to families of children who are immunocompromised! Lily's Pad was designed to allow children dealing with medical conditions a chance to escape from some of the isolation they face. Our volunteers are ready to create a fun and welcome experience for our members, allowing parents the freedom to relax in our cafe area or take a private break in our Quiet Room.
The playground features a park-like playground piece with two slides and a climbing wall. Smaller children will enjoy our "Toddler's Corner" with a nook for reading, small toys and blocks. Older kids can try their hand at Pop-A-Shot, Air Hockey and Foosball. An arts and crafts area is ready and waiting for our creative visitors as well! Parents and Caregivers are always welcome to play or simply sit back and enjoy a cup of coffee or tea in "Caregiver's Corner."
Families can request membership and only need a medical professional's referral to qualify. To be a place of respite for our families, play is always free for our members! We do rely on the generousity of our community to help us operate our facility. Click the Donate Today bar below to learn how you can help.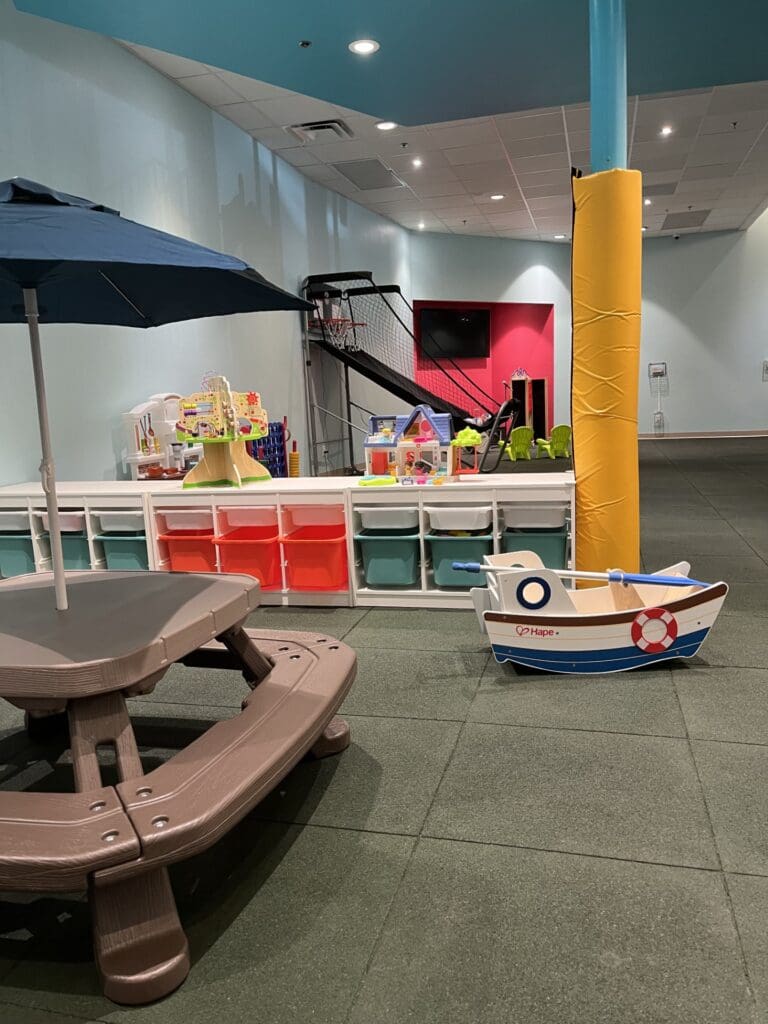 Play sessions are for members and siblings only and require a reservation. Sessions are limited to 12 children at a time.  
TUESDAY:  10:30 AM – 12 PM, 1 PM – 2:30 PM
THURSDAY:  10:30 AM – 12 PM, 1 PM – 2:30 PM
FRIDAY:  10:30 AM – 12 PM, 1 PM -2:30 PM
SATURDAY:  10:30 AM – 12 PM, 1 PM – 2:30 PM
Families and community members are welcome to tour our facility! Please be prepared to have your temperature taken before admittance. All guests will need to wear shoe covers before entering the playground space.
WEDNESDAYS: Tours are offered by appointment daily from 8:30 am – 4:30 pm
TUES/THURS/FRI/SAT: Tours are offered by appointment after 3 pm.
Donate Today
All donations, no matter how small, are truly appreciated and will only go to helping families and children suffering from immunocompromised conditions.