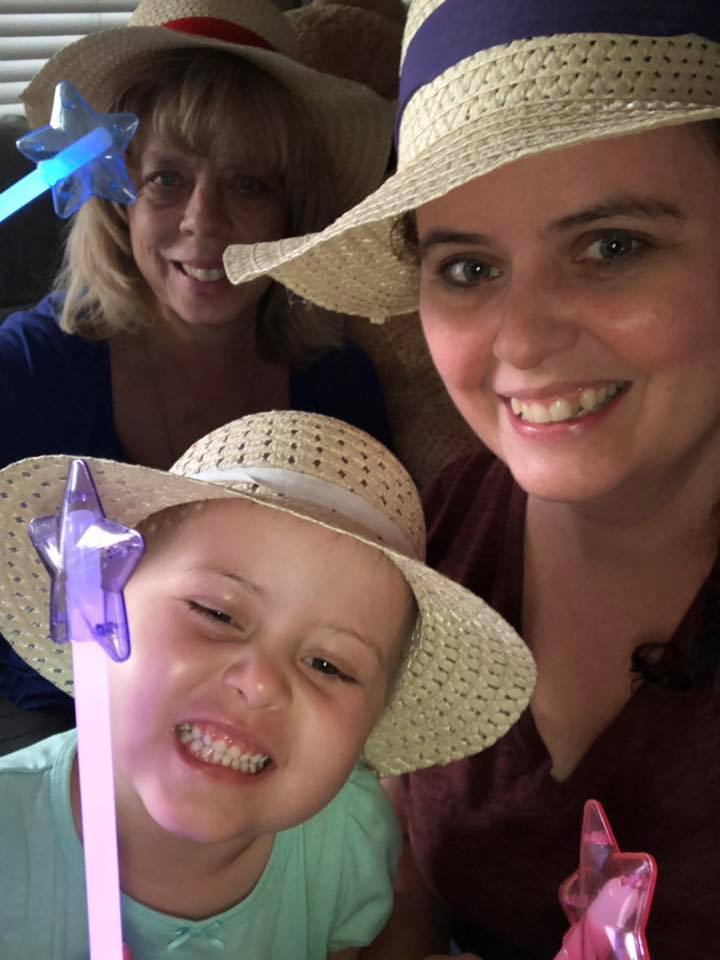 As you can see from the bald little head under that hat in this picture, this was a pretty tough time for Lily. She had been undergoing chemo treatments for quite sometime as well as several surgeries. She was no longer going to preschool and spent most of her days at home. Her immunity didn't allow for too many social activities and her body ached from all it was being put through. I would be lying if I told you this was an easy time. We were all just doing our best to keep the balls up in the air and most importantly to take care of Lily. It was hard, truly hard. Yet…somehow in spite of this reality…there were magical moments that I can't help but feel blessed to have experienced.
This memorable little selfie was snapped during our special sleepover at Lily's house. In an effort to give my brother and his wife a night away, my mom and I offered to hang out with Lily for an overnight adventure. We wanted them to recharge and relax but really, it was for Lily too. She needed a little break from her new standard routine and as two of the people helping care for her, we were a safe option for her to be left with. My mom and I arrived with our overnight bags to find an enthusiastic Lily practically shoving her parents out the door. And so the fun began! I wish a video recorder had been running the whole time we were there because I'd love a chance to see it all over again. It was a truly insane night, full of lots of activities and an incredible amount of laughter. We did crafts and sang songs. We ate take out food and played in the backyard. But one of the best moments came when we put these hats on and transformed into magical witches. My mom and I taught Lily how to cackle and once she got it, she was so good! She would hold her wand out, cackle, and then point at things while yelling "Abra-ka-DAMN"! And no, I can assure you, we did not correct her pronunciation of that word once. We're Grandma and Auntie after all, we can have our fun! Oh and did we ever. She had us literally holding our bellies and crying we were laughing so hard.
Later that night, we blew up an air mattress in her parents bedroom. She had taken to sleeping with them because sometimes the nights alone were too much. So my mom took the bed and Lily insisted that she and I share the air mattress. There should have been plenty of room on that queen bed for the two of us, but somehow that kid managed to take up every inch of space! I didn't mind though. Lying there with my scrap of blanket, next to her warm little body, with my mom sleeping a few feet away is one of the best memories of the night. How often do you have a sleepover with your Mom and niece? Not too often. Probably never again.
The next morning was more of the same. Sweet foods for breakfast she didn't normally get, a trip to the dollar store for some more dress up supplies and a full blown concert for her parents when they arrived home on our recorders. I even managed to convince her to take the meds she found the most yucky but agreeing to drink pickle juice if she did. (Sorry again to my brother – she made him do the same for several days after). All in all, when I drug my tired self home that afternoon, I was full of smiles and lots of good stories. It was a weekend of fun and laughter and great memories. But more than that, it was an example that life is what you make of it.
I will never tell you that I'm grateful that Lily got cancer. How on earth could I possibly say that? I will never tell you that I wouldn't trade this photo for anything because that's a lie as well. I'd give up that sleepover memory in a heart beat if it meant Lily had grown up like any other kid with no disease in her life. But Lily's illness is not something I could control. I couldn't change that she was sick or that her hair had to fall out in order for her to get better. Neither could my mom or any one of us. But we could decide to make extra special, unforgettable memories of joy during all that madness. That was what we had the power to do. And that's what we all have the power to do if we try.
I know this is not the Halloween you wanted for your kids. It's probably not going to be the Thanksgiving or the Christmas either. This pandemic has taken a lot from us. But it's up to you how much you let it take. Try to find joy in the holidays in a different way. Be creative and do things you never thought of doing. Sing songs and dance around the living room with all the littles in your life. Be silly and laugh until your sides ache. You can't control that this terrible virus is happening and I'm not suggesting you find gratitude for this situation we are all living in. I'm just suggesting that what you remember most about it is all up to you. Grab that magic wand, cackle and yell "Abra-ka-DAMN". If that doesn't start your holidays off with a smile, I don't know what will!
Happy Halloween from all of us at Lily's Pad! We hope you find a way to transform this holiday into something worth remembering!
Written by Lily's Auntie Dawn
– Director of Operations and Member of the Three Magical Witches Club