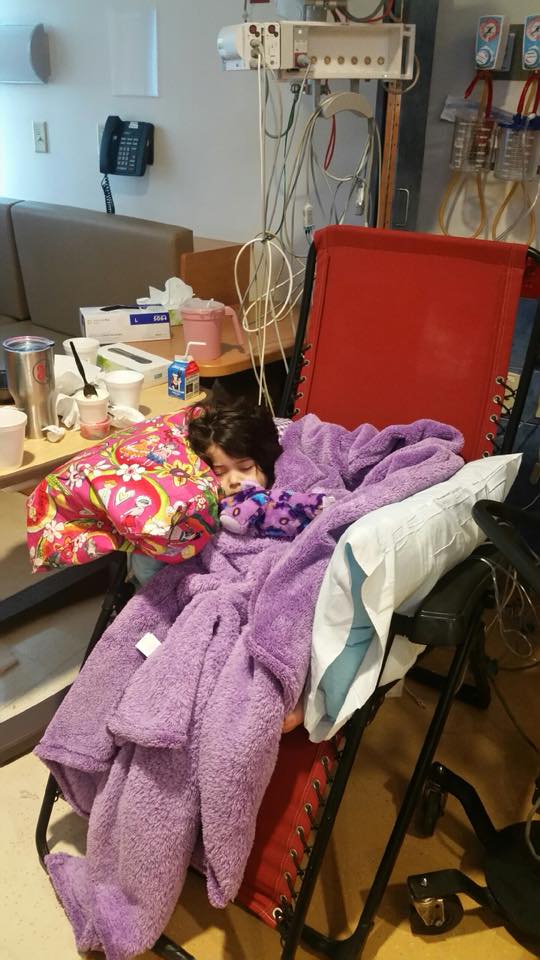 It was December of 2017 and just days before Christmas. Lily had been sick off and on for weeks, months maybe. The spike in her fever is what drove my brother and his wife to take her to the hospital. They feared pneumonia or some severe respiratory infection. They anticipated meds, a possible overnight stay and then a happy Christmas with their three year old. Instead, they were told that Lily was in the fight of her life against a high risk form of Acute Lymphoblastic Leukemia. Life would never look quite the same for us.
The big Christmas party with all of the aunts and uncles and cousins at my mom's house was cancelled. For the first time in my 40 plus years of existence, I had no plans for the holiday. My daughter works at a bar and grill called Bogey's as a bartender. Earlier in the week, the staff had been told they would close for Christmas unless any staff members wanted to open it up. Just like me, she had expectations of a big family gathering and hadn't bothered to sign up. But, with nothing left to do on that lonely and sad Christmas night, and a feeling of utter helplessness, she decided to open the bar and donate all her tips to her cousin Lily's care. She used this photo taped to a big plastic jar telling patrons Lily's story. In just a few hours, she had raised over $400 from the small group of people gathered around the bar that Christmas night. It was the first time, we would experience the kindness of strangers. But it wouldn't be the last.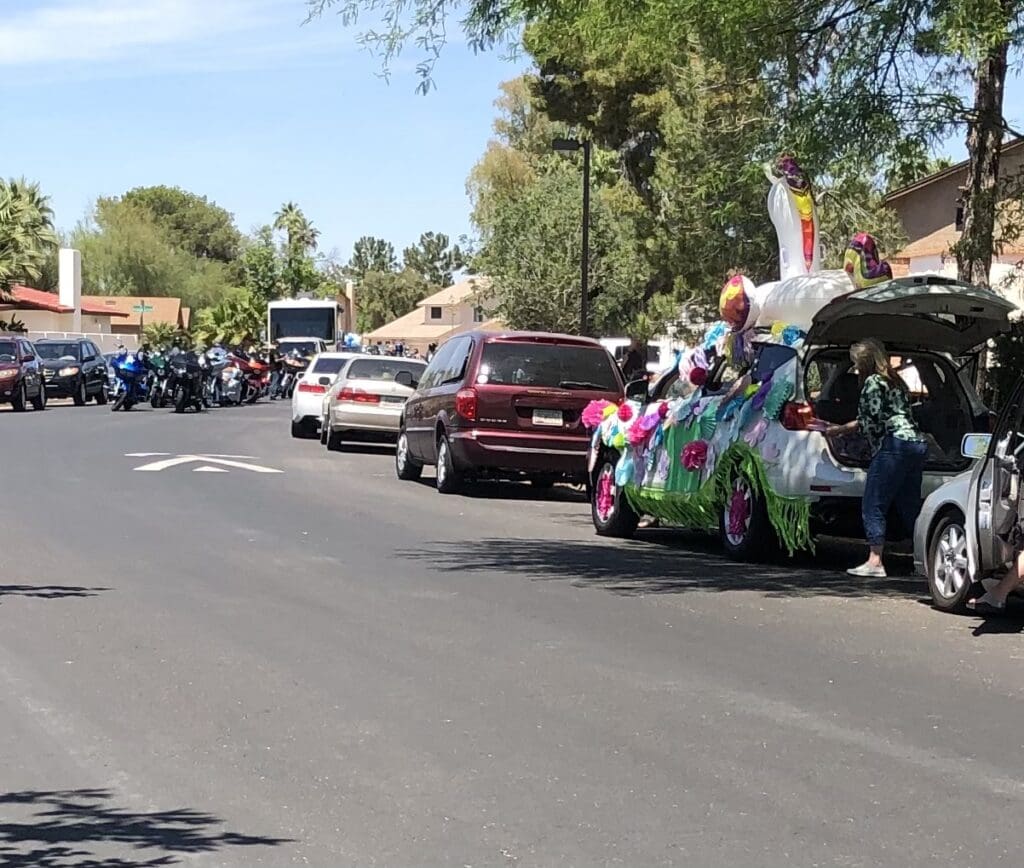 Over the course of Lily's treatment, we were overwhelmed by people willing to help our family get through our tragedy. Fundraisers were thrown to help offset Lily's medical expenses, surprise presents showed up in the mail, and a warm outpouring of love and prayers were never far away. When Lily had her last medical treatment and was declared cancer free, a community of people gathered around us to celebrate her victory. Right in the middle of the COVID pandemic, Lily couldn't have the big party we had planned. Instead we threw her a parade and there were well over 100 cars that came down my parent's neighborhood road. Motorcyclists, Disney princesses, radio newscasters, fire trucks, police cars, friends and family bearing signs and presents. It was one of the most powerful experiences I have ever had. I'm glad we didn't get to throw a party….this parade was by far the coolest thing ever! A tribute to my niece's incredible strength and a display of love all wrapped up in one long entourage
And now, here we are. Trying to pay it forward. Trying to make something special so that other people living with children who are immune compromised might have just a little something awesome to be a part of it. Our family was lucky. Brad and his wife had good insurance. They had the ability to shelter Lily with family caregivers and not lose their jobs while doing it. My dad's service as a policeman, my brother's connections in the business community, my mom's nursing background all led us down paths that helped make our experience just a little "easier". Others won't be so lucky. Financial burdens may overwhelm them, they may be single parents with no support system, they may lose their jobs or have to roll the dice on who takes care of their child. But at least they will have a little spot of sunshine in that stormy world they are living in. While they sit in that brightly lit, incredibly clean, loaded with fun playspace, we want them to feel all of the love that we felt beginning on that Christmas night three years ago.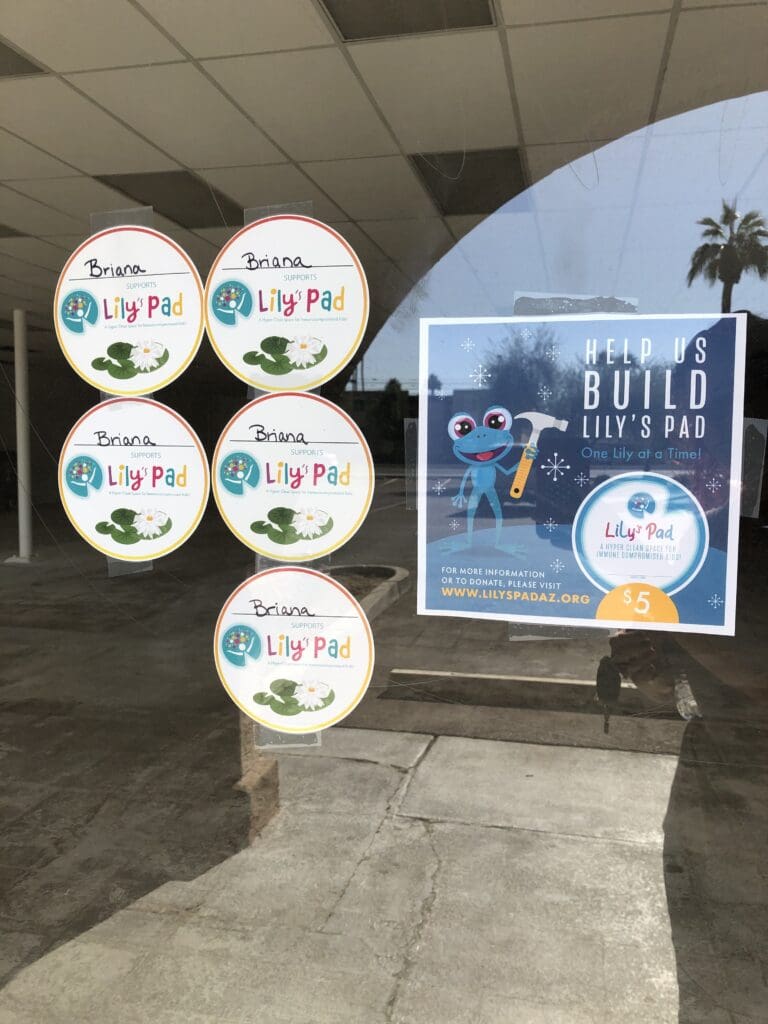 We are about to embark on our next fundraising campaign. We call it "One Lily at a Time". Basically we are asking retail establishments to sell a paper "lily" to help us raise money. It's a great little fundraiser because not only does it bring in donations but it introduces us to an entirely different group of people. And as our circle expands, my inbox starts to fill up with a new batch of incredible community members ready to help. In addition, Miss Lily herself sells lilies online. This year we are plastering the windows of the future playspace with the ones she sells. Little by little, dollar by dollar, we are going to chip away at that build-out goal.
As we fast approach three years from the day Lily was diagnosed, we look with grateful hearts upon the future. We hope you will consider participating in one of our holiday campaigns. Sell lilies or buy one from Miss Lily. Pick something off our wishlist. Choose us on Giving Tuesday. And please remember, no matter what you have to offer, great or small, we will feel blessed and honored by your kindness and generosity. And we will forever pay it forward.
Written by Dawn Garza
– Director of Operations at Lily's Pad and Humble Witness to the Gratitude of Others