September is children's cancer awareness month and my social media has been inundated with all kinds of posts about it. Many of them are inspiring…talking about little superheroes and the strong people taking care of them. Others are a little more painful to read, sighting long term side effects of treatments and statistics about survival rates. The posts that have really been getting to me though are the 4% ones. You may have seen these come up. These posts remind us that less than 4% of the federal funding for cancer research is dedicated to children's cancer. A truly terrible number and one I hope we can fix.
As I read all of these posts, I started to really think about Lily's Pad and its purpose. Because Lily's Pad is not here to raise money for the cure of childhood cancer or any of the other life threatening illnesses that children face today. We will not have researchers funded by our dollars or doctors trying cutting edge new treatments because of our financial support. We are quite simply fundraising to build and operate a space that lets these children come and play. Which made me start to think…is this enough? Is this a powerful enough purpose to ask the good people of our community to support?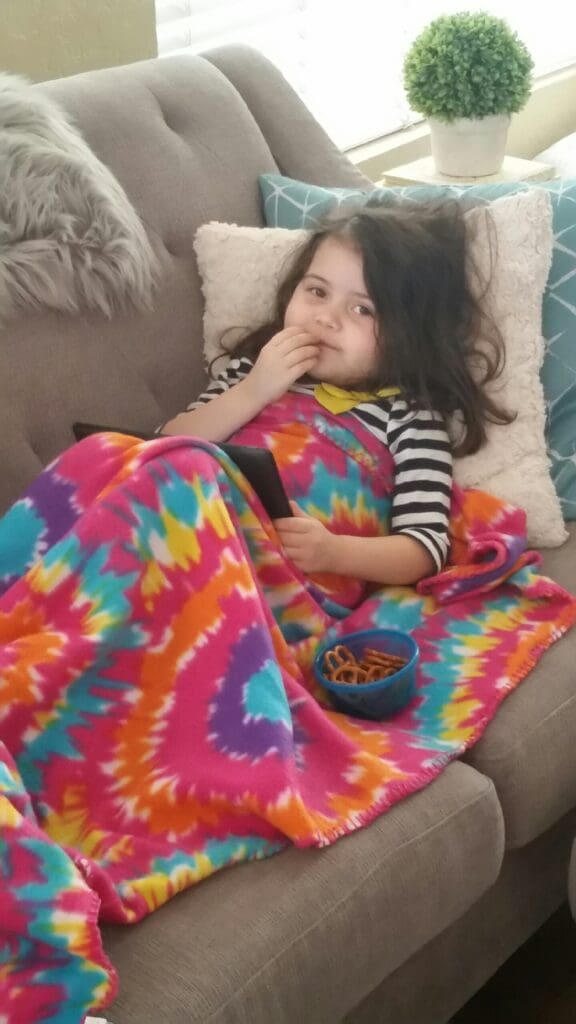 In the shadows of my doubt on this topic, one consistent memory kept resurfacing in my brain. I kept thinking about what it was like when I was a kid and I got sick. I remembered how my mom would make me a "couch bed". She'd cover the couch with sheets and blankets and bring out my pillows so I could lay there while watching television. She would open the curtains wide so that the sunlight would stream in – no dark sick room for me! And there I would spend the day. Getting to watch too much television while dozing off in the middle of the living room. I liked being brought my grilled cheese and chicken soup to eat while propped up on my pillows. It was kind of fun to have my mom's attention and even better when my sickness was one that allowed for ice cream or other such unexpected treats. I'm sure that I didn't feel well and that I would have rather felt better. I'm certain that I was sad to miss some of the things that being sick curtailed. But somehow my mom managed to create the best circumstances for me during those moments between when I was sick and when I was well. And somehow that means my memory of childhood sick days actually makes me smile.
And the more I thought about that memory, the more my doubts became replaced by certainty and I began to truly understand why my brother was so passionate about creating Lily's Pad. We are the "in-between" for these kids. In some cases, we will be the in-between fun in a childhood that will always have isolation as a part of it. In the best case scenarios, we will be the in-between for days when when these kids are sick and the days when they are well. Regardless, we will hold a place in time and a purpose that can't be discounted or diminished.
When I was that sick kid, my mom could probably have cured my illness while keeping me in my room isolated. I imagine my memories of being a sick kid might be a little less fond had she done that. But instead, she threw back the curtains to let the light in while giving me a front row seat to life in my awesome couch bed. I would have gotten better either way. The doctor's visit, the medicines, the extra sleep – they would have fixed me up. But my memory and my perception of the "in-between" when I was sick and when I was well came from the decision my mom made to heal my spirit along with my body.
I guess life is often about the choices we make when we are faced with the in-between. When we lose a job and are waiting for the next…how do we handle it? Do we wallow in the loss? Sit around feeling sad and lonely and unwanted? Or do we use that in-between time to think about what opportunities this might be giving us? How we live the in-between is often how we best set ourselves up for the next chapter. Years ago, I divorced the high school sweetheart I thought I would grow old with. I kind of thought that was it. I'd had my chance and now I'd grow old, alone, with my cat. Hey, I was young and dramatic and incredibly wrong. Today, I've been married for 18 years to an incredible man who has given me three kids and two grandkids and a whole lot of love and support along the way. Oddly, the in-between of those two vastly different marriages contains some of the most defining moments of my life. I learned to take care of myself and I grew up. I did a marathon in Alaska while raising money for a great cause. I met eight women who became the closest group of friends I have ever had and are still my "best girls" to this day. And I became a woman with an open mind and an open heart that was ready to say yes to that blind date that set the rest of my happily ever after in motion.
So the in-between does matter. It matters a lot. I am so incredibly grateful to all of the organizations out there that are fighting for the cure and more research dollars. They are so 100% necessary that I can't even find the words to describe it. They are essential. Completely, utterly, beyond a shadow of a doubt, essential. But so is Lily's Pad. Because in-between now and the cure, we will create joy and help these kids find peace with the memories of this time. We will give them laughter and hope and innocence. In-between all of their pain and their suffering, Lily's Pad will give them back their smiles. And if all goes well, when they get to the "then", that's what they will remember the most about their "now".
– Dawn Garza
Director of Ops at Lily's Pad and Advocate for Open Curtains and Couch Beds