Today was a very big day in the history of Lily's Pad. The first official non-related board meeting took place in the future home of our play space. These board members did very important things today too. They approved bylaws and a conflict of interest policy. They reviewed financial plans and analyzed construction challenges. And they listened to our updates on the progress with the City and our fundraising goals. But most importantly, they opened their hearts and their minds to our project and brought us one step closer to making this vision a reality.
This has been a long journey in many ways. The idea of Lily's Pad came to the mind of my brother, Brad, sometime in 2018. Deep in the throes of Lily's cancer treatments and devastated not only by the battle she was in for her life but the pain of her isolation, the idea of creating an indoor, hyper-clean play safe for kids with compromised immune systems began to take shape. He'll tell you the idea came to him in the shower and if you press it further, he'll tell you the story of how it all led up to that moment. He will relate the story of driving his four-year old daughter home from yet another hospital visit and telling her no, they couldn't play at the park. You'll see him wince with the memory of her fury and you'll probably feel sympathy for both of them when he shares that she hurled just about everything she could find at him from the backseat of the car before crying herself to sleep. Later that day is when he will have his moment, this vision of Lily's Pad that he won't be able to shake. And before the conversation is over, he will probably tell you that he didn't want the project. He didn't want to find himself submerged in a reminder of his daughter's stolen childhood by watching other kids go through it themselves. But he will also tell you that he couldn't resist it either and that a power much bigger than himself made him feel compelled to answer the call.
My brother took this idea to my parents. I remember him telling me that he didn't right away because he knew once he told them, there would be no going back. And he was right. The minute they heard it, they were caught…hook, line and sinker. My Dad actually became the one to do the legwork as Brad had to focus on Lily and he hit the pavement searching for everything from an existing play space we could "borrow" to a way to build one from the ground up. As Lily got better and all of us slowly resumed our normal roles in life, we officially formed our non-profit with an all family Board of Directors. Many meetings were had on the porch of my parents cabin or in the offices of our catering company. As a family, we poured our heart and soul into the project and the community answered. We began to raise funds, operating under a fiscal sponsor that helped us offer a tax deduction for donations. We met people who wanted to help. From donations to volunteer offers, we were overwhelmed by the response we received. And then in April of 2020, Lily cut the ribbon to the donated space of our future playground and we thought we were headed for success.
But, we were not. We were headed for shutdown. As was the rest of Arizona. Everything skidded to a halt from our catering company to our donors' businesses to our own lives. COVID showed no mercy and Lily's Pad was not spared. But over time, we regrouped and some changes were made to get ourselves back on track. I became the Director of Operations, a totally new and exciting career path that I have come to love, and we resurrected our grass roots fundraising efforts to slowly start building funds again. We wanted out from our fiscal sponsor and knew we would need to form a non-related Board to meet the demands of the IRS and become our own tax-exempt agency. It took some time, but we found ourselves a very dedicated group of individuals who were willing to do their part to see this dream come true.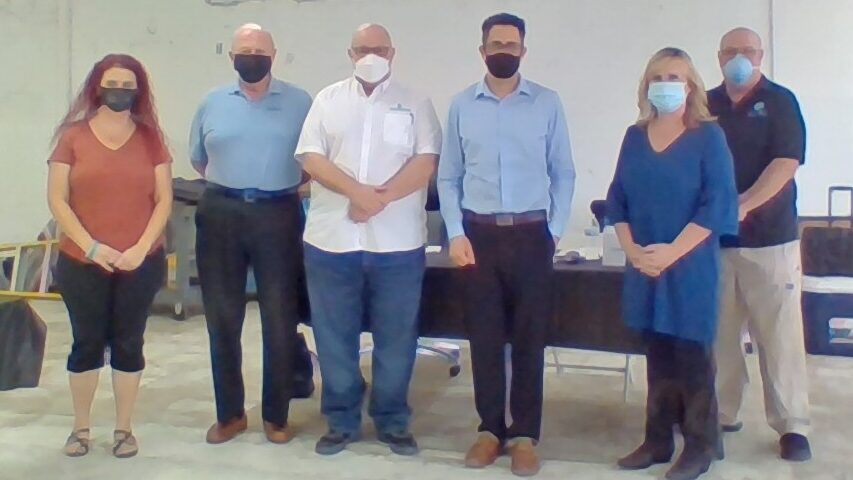 And today, those folks gathered for the first time and toured the future space that they will help to build. They sat well over six feet apart at card tables and plastic chairs and listened to all we had to tell them. And then they filled my notebook up with ideas and suggestions that I would never have thought of myself. In their eyes, the same light of desire to help was reflected. Their determination and concern for these kids was evident in all they said and did. I sat there at my table next to my Dad and across from my brother and marveled at the willingness of these people, some strangers to us only a short time ago, to join the Lily's Pad family and fight for immune compromised children. We took this photo at the end to commemorate the moment. (We missed you, Gina and Debra, for the photo op but know there will be more). I can't wait to hang this photo in my office so I can remember when these lovely people all sat in a dusty concrete shell of a space and started helping us turn the wheels of the Lily's Pad buildout into motion. I'm grateful to these people, my amazing Lily's Pad Board of Directors, and I can't wait to see us make this magic happen together. Thanks for showing up and for caring. Thanks for saying yes when we asked if you would help. And above all else, thanks for deciding this mattered. I know we will succeed and build Lily's Pad and I also know you will be one of the biggest reasons why we do.
Thank you Bob, Butch, Elaine, Gina, and Debra for joining the team! We couldn't be more glad to have you!
-Written by Dawn Garza,
Director of Operations at Lily's Pad and Very Grateful Attendee of Today's Board Meeting
Lily's Pad Board Members:
Chairman of the Board – Brad Taylor
Treasurer/Director – Bob Naujokaitis
Secretary/Director – Gina Keilen
Expert Advisor/Director – Debra Harris
Director – Elaine McCombie
Director – Butch Leiber
Non-Voting Members – Al Taylor (CEO), Dawn Garza (Dir of Ops)