Years ago, I started following a Facebook page for an organization called Smashing Walnuts. A friend of mine shared the story of Gabriella, a little girl diagnosed with an inoperable brain tumor and her family's mission to change legislation and funding for childhood brain cancer research. It was an uplifting story when I first started following it, as Gabriella did make quite an impact. But tragically, she lost her life to the disease. I remember the day I read the post announcing her death and how I was moved to tears for this little girl I had never met and her family.
As the years progressed, Smashing Walnuts became a pretty constant part of my social media news feed. Their posts were sometimes written by Gabriella's father, or from volunteers or various friends and family members, but the ones that really got me were from Gabriella's mother. She was devastated, of course, but she was also very angry. Angry at the loss of her daughter, angry that her son was going to grow up without his sister, angry that more wasn't being done for these kids, angry at the other children suffering and dying from these diseases. And as I read her posts, I'm ashamed to admit, I considered hiding them from my Facebook feed. It was just so sad and hard to read and her grief was so raw and real. But something in me just couldn't do that. For some reason, I felt that I owed it to her to honor her daughter and her loss by being a part of her outlet. And so I let her stay right where she was. Popping up among my friend's family photos and my local restaurant's menu offerings. Offering a stark reality to the happy go lucky world that I mostly lived in.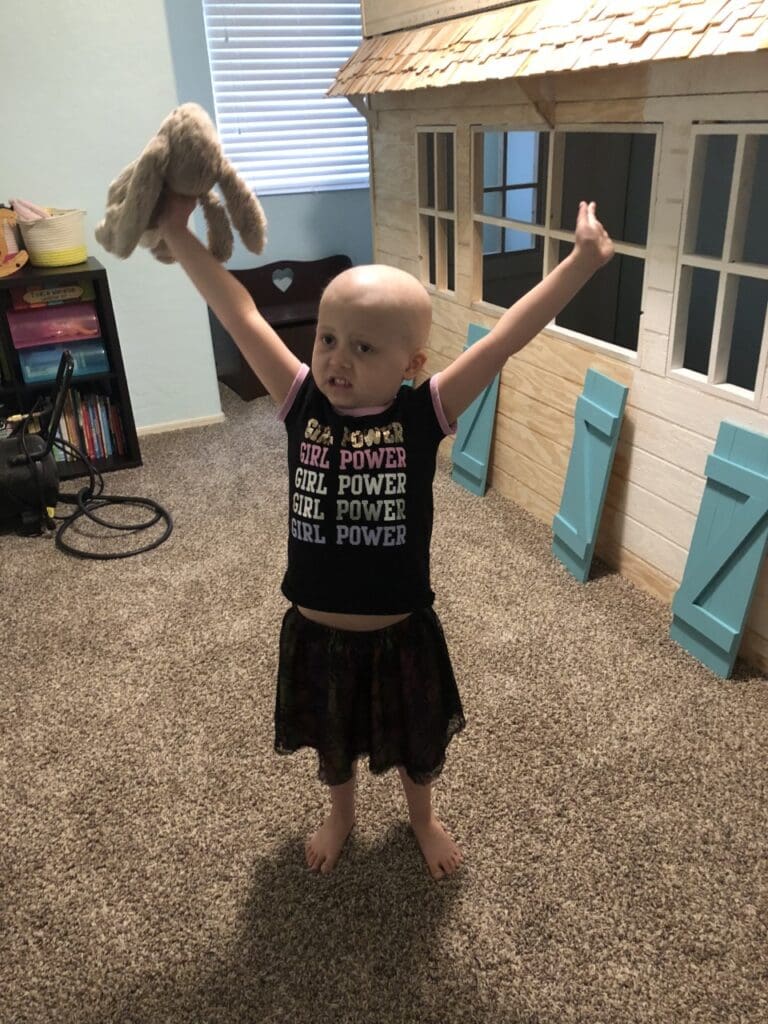 Little did I know that I too would become a word warrior. That I would spill my feelings and my sadness and inevitably, my anger, out into the world through blogs and Facebook posts. I had no idea that my family would also be hit with the incredible grief of a pediatric cancer diagnosis. That we too would bear witness to the pain and suffering that a beloved child goes through while battling for life. I am fortunate though. The child I love was not taken from me. She lives on, cancer free, and a beacon of hope for other families sitting in a hospital somewhere receiving devastating news just like ours did.
I can't speak directly for Gabriella's mom, but I can speak for myself as Lily's Auntie. I never wrote my posts or blogs with the intent to make my readers cry. That may ultimately have been the outcome, but it wasn't my goal. I wanted then and still want today, for my readers to feel. Feel the incredible weight of helplessness that comes when a child is diagnosed with a life threatening illness. Feel the fear that comes from the unknown when a child's life is in the hands of doctors and nurses whom you have never met. But most importantly, feel called upon to help. I figure, if you can start to feel what we felt when we were in the darkest hours, it's possible that you will feel called upon to fight the fight with me.
So today when I shut down my computer, all I can hope for is that my words will somehow rally a tribe of people to join in this battle. How you choose to fight is up to you. There are people fundraising for research and advocating for cures. There are people visiting kids in hospitals and helping parents pay the bills. There are people sewing clothes to make treatments easier or bringing gifts to raise spirits. And there's a group of us trying to build a playground to restore some joy and innocence to these little warriors' lives. Regardless of what tribe you find yourselves called to join, I just hope you will continue to bear witness to our stories. Read the poor mama's post who lost her baby. Stand beside the families reeling from the devastation of childhood illnesses and lost hopes. Feel their pain, honor their memories, fight their fight. Be a part of the journey. Our words are the only weapons that no one can take from us in this fight. Let them be powerful.
–Written by Dawn Garza
Director of Operations at Lily's Pad and Self Proclaimed Word Warrior
For more information on Smashing Walnuts, visit https://smashingwalnuts.org